Topic Resources
Angiography is a type of medical imaging that uses x-rays and a contrast agent to produce images of blood vessels.
In angiography, x-rays are used to produce detailed images of blood vessels. It is sometimes called conventional angiography to distinguish it from computed tomography (CT) angiography CT angiography Computed tomography (CT) is a type of medical imaging that combines a series of x-rays to create cross-sectional, detailed images of internal structures. In computed tomography (CT), which used... read more
and magnetic resonance angiography Magnetic resonance angiography (MRA) Magnetic resonance imaging (MRI) is a type of medical imaging that uses a strong magnetic field and very high frequency radio waves to produce highly detailed images. During an MRI, a computer... read more
(MRA). During angiography, doctors can also treat disorders of blood vessels. Angiography, although invasive, is relatively safe.
Angiography can provide still images or motion pictures (called cineangiography). Cineangiography can show how fast blood travels through blood vessels. (See also Coronary Angiography Coronary angiography Cardiac catheterization and coronary angiography are minimally invasive methods of studying the heart and the blood vessels that supply the heart (coronary arteries) without doing surgery. These... read more
and Overview of Imaging Tests Overview of Imaging Tests Imaging tests provide a picture of the body's interior—of the whole body or part of it. Imaging helps doctors diagnose a disorder, determine how severe the disorder is, and monitor people after... read more .)
Procedure for Angiography
Before the angiography procedure, people are usually asked to refrain from eating and drinking for 12 hours.
For the procedure, people lie on an x-ray table (one that x-rays can easily pass through). Because the table may be tilted, straps may be applied across the chest and legs. X-ray cameras can be positioned as needed. Electrodes are placed on the chest to monitor the heart. Blood pressure and oxygen levels are also monitored.
Before angiography, people are often given a sedative intravenously to help them relax and remain calm, but they remain conscious during the procedure. During the procedure, people may be asked to take deep breaths, hold their breath, or cough. People should report any discomfort they feel.
Angiography may take less than an hour or several hours, depending on the area of the body being evaluated and the type of the examination or procedures being done. It is usually done as an outpatient procedure.
If the catheter is inserted into an artery, the insertion site must be steadily compressed for 10 to 20 minutes after all the instruments are removed. Compression reduces bleeding and bruises.
Cerebral Angiography: Catheter Insertion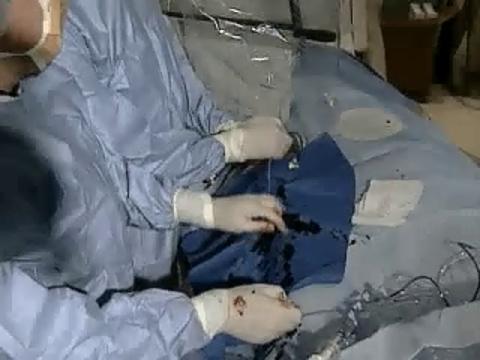 Uses of Angiography
Angiography is used to check for abnormalities in blood vessels, usually arteries. Abnormalities may include
During angiography, procedures to treat the abnormalities detected can sometimes be done:
Narrowed arteries can be widened.

Blockages can be removed.

A tube made of wire mesh (stent) can be placed to keep an artery open.

Tears or weakened areas in a blood vessel can be repaired.

Blood flow to tumors or arteriovenous malformations can be blocked.
Variations of Angiography
Arteriography
Arteriography produces an image of arteries and is the most common type of angiography.
Digital subtraction angiography
Disadvantages of Angiography
Serious complications, such as shock Shock Shock is a life-threatening condition in which blood flow to the organs is low, decreasing delivery of oxygen and thus causing organ damage and sometimes death. Blood pressure is usually low... read more , seizures Seizure Disorders In seizure disorders, the brain's electrical activity is periodically disturbed, resulting in some degree of temporary brain dysfunction. Many people have unusual sensations just before a seizure... read more , kidney damage, and sudden stopping of the heart's pumping (cardiac arrest Cardiac Arrest and CPR Cardiac arrest is when the heart stops pumping blood and oxygen to the brain and other organs and tissues. Sometimes a person can be revived after cardiac arrest, particularly if treatment is... read more
), are very rare. Sometimes during cardiac catheterization, the heart skips beats or slows briefly.
The risk of complications is higher in older adults, although it is still low.
Angiography is not always readily available. It must be done by highly skilled doctors.
VIEW PROFESSIONAL VERSION