Topic Resources
Hyperthyroidism is increased production of thyroid hormone.
Graves disease is the usual cause of hyperthyroidism, but growths (nodules) on or inflammation of the thyroid gland, drugs, and infections can be causes too.

Symptoms depend on the child's age but typically include speeding up of bodily functions.

The diagnosis is based on blood tests and imaging tests.

Treatment typically includes antithyroid drugs and beta-blockers.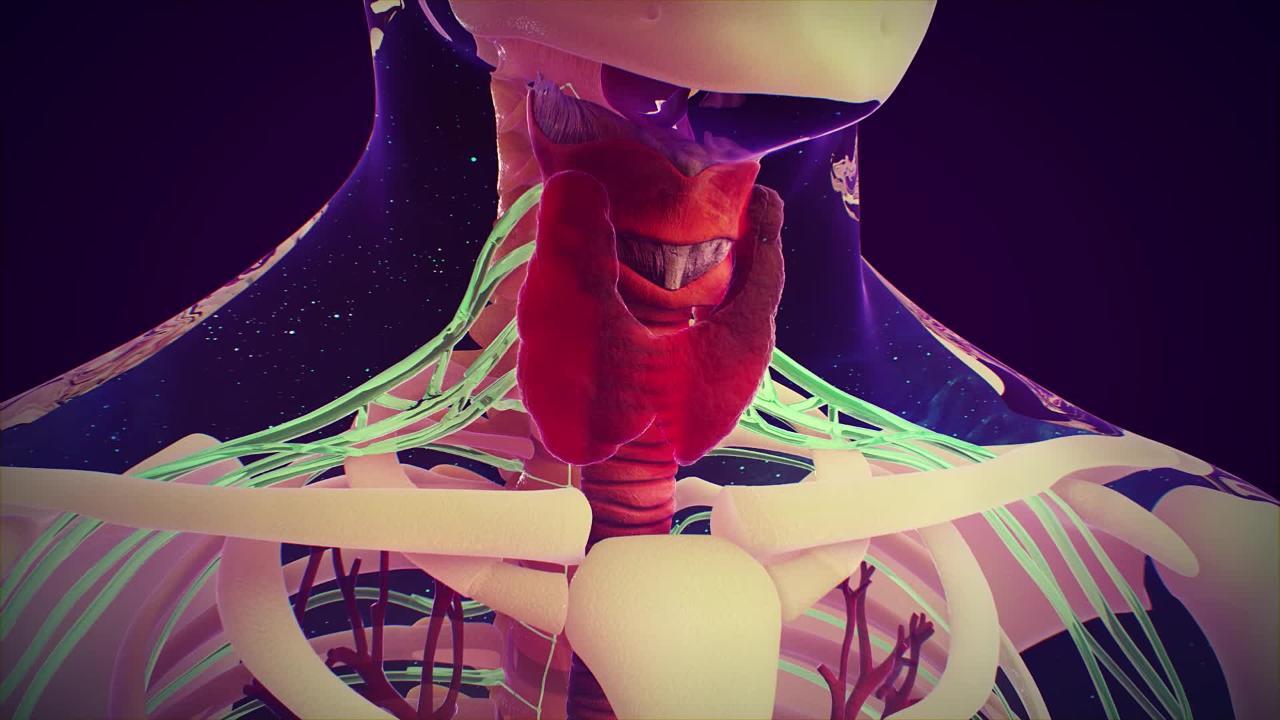 The thyroid gland secretes thyroid hormone. Thyroid hormone controls the speed of the body's metabolism, including how fast the heart beats and how the body regulates temperature. If the thyroid gland produces too much thyroid hormone, these functions speed up.
Locating the Thyroid Gland
Hyperthyroidism can occur in a developing fetus or newborn or during childhood or adolescence.
Symptoms
Symptoms of hyperthyroidism differ depending on the age of the child.
Newborns
An affected newborn has increased bodily functions, such as a rapid heart rate and breathing, irritability, and excessive appetite with poor weight gain. Other symptoms include failure to thrive Failure to Thrive in Children Failure to thrive is a delay in weight gain and physical growth that can lead to delays in development and maturation. Medical disorders and a lack of proper nutrition are causes of failure... read more , vomiting Vomiting in Infants and Children Vomiting is the uncomfortable, involuntary, forceful throwing up of food. In infants, vomiting must be distinguished from spitting up. Infants often spit up small amounts while being fed or... read more , and diarrhea Diarrhea in Children Diarrhea is a very common problem in children (see also Diarrhea in adults). Diarrhea is frequent, loose, or watery bowel movements (BMs) that differ from a child's normal pattern. Sometimes... read more . The newborn, like the mother, may have bulging eyes Eyes, Bulging Bulging or protruding of one or both eyes is called proptosis or exophthalmos. Exophthalmos is usually used when describing bulging eyes caused by Graves disease, a disorder causing overactivity... read more
(exophthalmos). If the newborn has an enlarged thyroid gland (congenital goiter Congenital Goiter Congenital goiter is enlargement of the thyroid gland that is present at birth. The enlarged thyroid gland may produce too much thyroid hormone ( hyperthyroidism), too little thyroid hormone... read more ), the gland may press against the windpipe and interfere with breathing at birth. A very rapid heart rate can lead to heart failure.
Children and adolescents
Symptoms of hyperthyroidism reflect the speeding up of bodily functions:
Increased heart rate and blood pressure
Although bodily functions increase, concentration and school performance decrease. Goiter may be present. Children may have red or bulging eyes.
Symptoms of acute thyroiditis develop suddenly. Children have tenderness over the thyroid gland, and fever. In subacute thyroiditis, these symptoms are present but are less severe and may begin after a viral illness. Fever may last for several weeks.
Treatment
Sometimes iodine or hydrocortisone
Children of all ages, including newborns, are given antithyroid drugs (such as methimazole), which decrease the thyroid gland's production of thyroid hormones, and beta-blockers (such as propranolol), which are drugs that slow the heart rate. Beta-blockers are used only if the heart rate is too fast or blood pressure is too high. Treatment with beta-blockers is stopped after the antithyroid drugs have taken effect.
Newborns who have neonatal hyperthyroidism almost always recover by 6 months and no longer need antithyroid drugs. Symptoms in older children treated with antithyroid drugs may eventually disappear (called remission), but symptoms may return (called relapse) in some children and they may need further treatment.
Children who have a complication called thyroid storm may be given iodine drops by mouth or hydrocortisone by vein, but thyroid storm is rare.
Sometimes older children (11 years of age and older) with Graves disease need additional treatments to permanently treat the disorder. Permanent treatment (definitive therapy) may be needed if the antithyroid drugs do not work (or the child does not take them) or if the drugs are causing serious side effects. In definitive therapy, the gland is destroyed with radioactive iodine or removed with surgery. However, radioactive iodine is usually not given to children who are under age 10 and is often not effective in people who have larger thyroid glands. Therefore, surgery may be done instead for children and adolescents who have these factors.
Nodules are removed surgically.
Acute thyroiditis is treated with antibiotics. Subacute thyroiditis is not treated with antibiotics, but nonsteroidal anti-inflammatory drugs (NSAIDs) are given for pain. Children are not given antithyroid drugs, but beta-blockers may be given.
VIEW PROFESSIONAL VERSION