Topic Resources
Hashimoto thyroiditis is chronic, autoimmune inflammation of the thyroid gland.
Hashimoto thyroiditis results when antibodies in the body attacks the cells of the thyroid gland—an autoimmune reaction.

At first, the thyroid gland may function normally, be underactive (hypothyroidism) or, rarely, overactive (hyperthyroidism)

Most people eventually develop hypothyroidism.

People with hypothyroidism usually feel tired and cannot tolerate cold.

The diagnosis is based on results of a physical examination and blood tests.

People with hypothyroidism need to take thyroid hormone for the rest of their life.
Thyroiditis refers to any inflammation of the thyroid gland. Inflammation of the thyroid may be caused by a viral infection or an autoimmune disorder.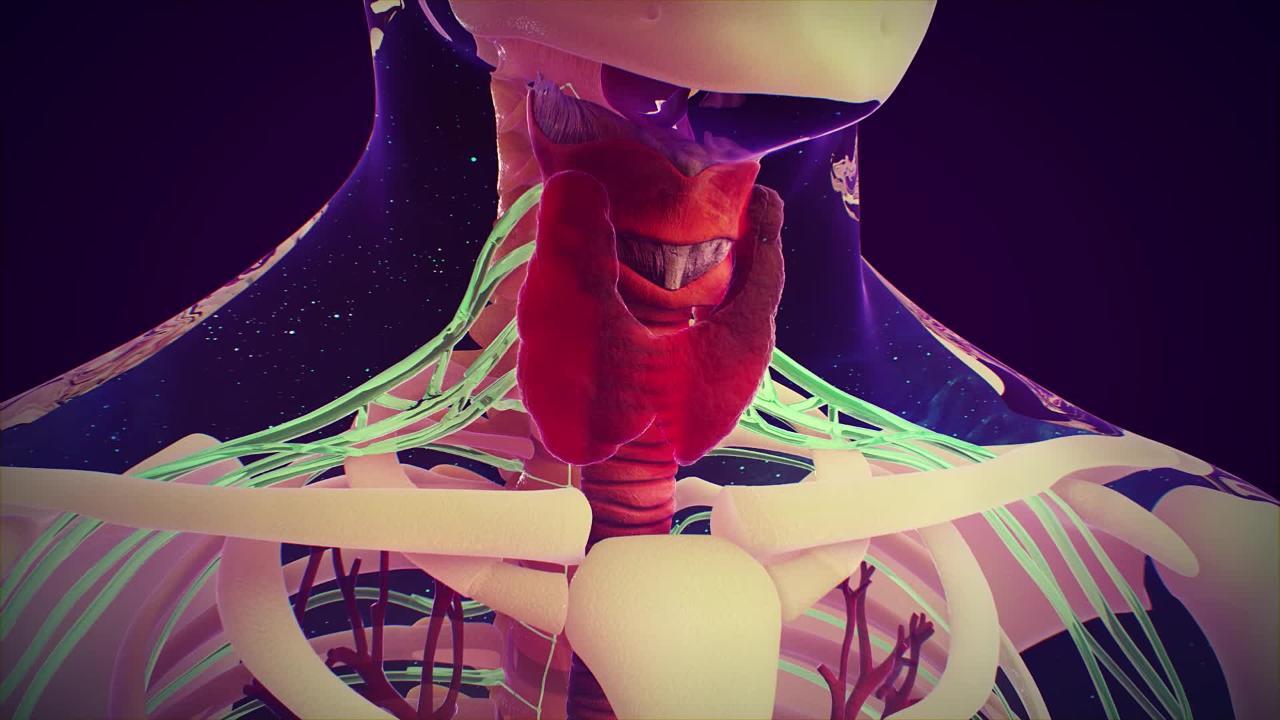 Hashimoto thyroiditis is the most common type of thyroiditis and the most common cause of hypothyroidism Hypothyroidism Hypothyroidism is underactivity of the thyroid gland that leads to inadequate production of thyroid hormones and a slowing of vital body functions. Facial expressions become dull, the voice... read more
. For unknown reasons, the body turns against itself (an autoimmune reaction Autoimmune Disorders An autoimmune disorder is a malfunction of the body's immune system that causes the body to attack its own tissues. What triggers an autoimmune disorder is not known. Symptoms vary depending... read more ). The thyroid is invaded by white blood cells White Blood Cells The main components of blood include Plasma Red blood cells White blood cells Platelets read more
, and antibodies are created that attack the thyroid gland (antithyroid antibodies).
In about 50% of people with Hashimoto thyroiditis, the thyroid is underactive initially. In most of the rest, the thyroid is normal at first (although in a small number of people, the gland initially becomes overactive), after which it usually becomes underactive.
Hashimoto thyroiditis is most common among women, particularly older women, and tends to run in families. The condition occurs more frequently among people with certain chromosomal abnormalities, including Down syndrome Down Syndrome (Trisomy 21) Down syndrome is a chromosome disorder caused by an extra chromosome 21 that results in intellectual disability and physical abnormalities. Down syndrome is caused by an extra chromosome 21... read more
, Turner syndrome Turner Syndrome Turner syndrome is a sex chromosome abnormality in which girls are born with one of their two X chromosomes partially or completely missing. Turner syndrome is caused by the deletion of part... read more
, and Klinefelter syndrome Klinefelter Syndrome Klinefelter syndrome is a sex chromosome abnormality in which boys are born with two X chromosomes, instead of one, and one Y (XXY). Klinefelter syndrome occurs when a boy has one extra X chromosome... read more
.
Diagnosis of Hashimoto Thyroiditis
Thyroid function tests (TSH and T4; T3 if hyperthyroidism is suspected)

Sometimes a thyroid ultrasound
VIEW PROFESSIONAL VERSION