Topic Resources
Meconium aspiration syndrome is trouble breathing (respiratory distress) in a newborn who has breathed (aspirated) a dark green, sterile fecal material called meconium into the lungs before or around the time of birth.
Even though fetuses do not eat, their intestines contain a sterile substance called meconium.

Fetuses sometimes pass meconium into the amniotic fluid before birth, either normally or in response to stress, such as a lack of oxygen.

Stress may cause fetuses to gasp reflexively, thus inhaling amniotic fluid containing meconium into their lungs.

Affected newborns have bluish or gray skin and/or lips, rapid and labored breathing, and can make a grunting sound when breathing out.

The diagnosis is based on seeing meconium in the amniotic fluid at birth, along with trouble breathing and abnormal chest x-ray results.

Affected newborns require supplemental oxygen and may require assistance with a ventilator.

Most affected newborns survive, but the syndrome can be fatal if severe.
Meconium Aspiration Syndrome (MAS)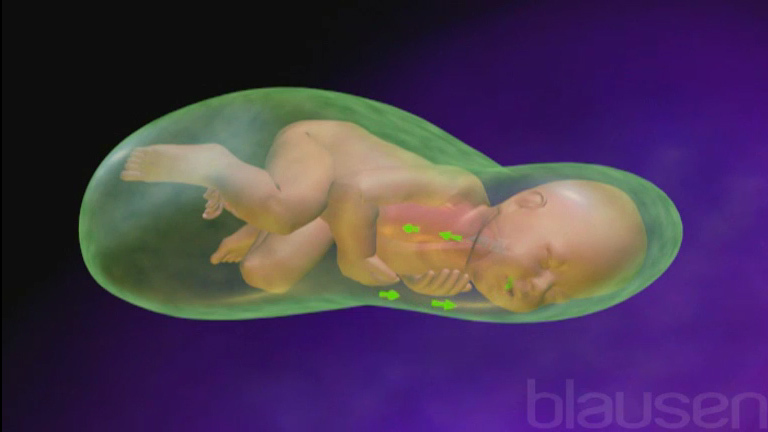 Meconium aspirated into the lungs also causes inflammation of the lungs (pneumonitis) and increases the risk of lung infection.
Symptoms of Meconium Aspiration Syndrome
Affected newborns have respiratory distress, in which they breathe rapidly, draw in their lower chest wall while breathing in, and grunt during breathing out.
The newborn's umbilical cord, nail beds, or skin may be stained by meconium, giving them a greenish yellow color.
Diagnosis of Meconium Aspiration Syndrome
Meconium in the amniotic fluid
Doctors suspect meconium aspiration syndrome if a newborn has trouble breathing and meconium is seen in the amniotic fluid and on the newborn at the time of birth.
Doctors confirm the diagnosis by doing a chest x-rays.
Cultures of blood may be done to look for certain kinds of bacteria.
VIEW PROFESSIONAL VERSION